Business Profile Series ~ Holland Valley Construction
Using the tools in your tool kit or adding a tool to your tool kit is an expression that I use in working with clients that relates to this observation; the more skills you have or can acquire, the more options you may have to focus your business using particular methodology or to a specific target market.
Holland Valley Construction Ltd. is an interior construction company, offering start to finish interior construction and renovation services. The business is an Ontario incorporated company, beginning operation in February 2015 and is operated by Ryan Holland, who works as the company's CEO and Secretary Treasurer, in Rideau Lakes, Ontario.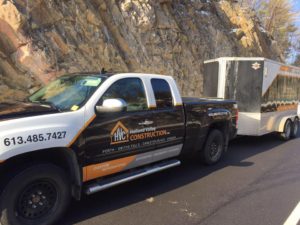 Ryan's tool kit (experiences) consisted of the following:
3 years of construction retail management experience with Rona Ontario
Corporate trainer for Rona Ontario
Project manager of new store construction and store renovation projects in Toronto and Port Perry
Job site presence with various contractors over a 15 year span
It wasn't surprising for me that Ryan used all of these skills in designing and executing his business strategy, versus most renovation business startups that consist of a solopreneur and this strategy has been embraced in every facet of the business.
The business strategy revolves around the hiring of employees who are dedicated to the company and buy into the mission and values of Holland Valley. Beginning operations included one full time carpenter as well as a project manager on each job. Part time labourers are hired as required, and additional carpenters are hired to accommodate workload increases.
To compete with the do-it-yourself market, Holland Valley focuses on providing an exceptional experience for the customer and emphasizing the company's efforts to follow rules and regulations of the industry that protect its workers and the customers. This strategy not only encourages the client to approach Holland Valley with more profitable projects in mind, but also provides more consistent work and efficiency for the employees of the company, keeping consistent with the brand we represent.
Pursuing the services of Holland Valley, the target client understands that they are paying for carpenters as well as a project manager, ensuring commitment to both quality and efficiency. This will increase the cost of hiring Holland Valley, however the increased cost will be offset by the efficiency and organization of each project. Each project will pay a set hourly rate per crew, with the services of the project manager being included in the rate.
Holland Valley Construction takes a customer first approach, focusing primarily on customer satisfaction and ongoing communication. This exceptional customer service is what the majority of construction companies are missing, and why such a large number of potential customers are frustrated with a lack of returned phone calls and proper service. In order to properly service a customer, Holland Valley will ensure phone calls are returned, concerns are immediately addressed, billing is simple to understand and many payment methods are available. This role will be the focus of the project manager, ensuring customer service is never sacrificed when labour demands are high.
In addition to a commitment to customer service, Holland Valley will utilize its mobility and central location to access work sites across Eastern Ontario. Having two cargo trailers for tool and material transportation, Holland Valley is willing to travel to homes and job sites that others refuse. This is especially important for customers in Lanark County, as the region has a very low population density and requires a large amount of travel to different areas.
Currently the business is set to expand to include a 1,000 square foot showroom area located at 12 Chambers St in Smiths Falls. Although the majority of materials are shipped to each individual job site, thisexpansion allows for a "business workspace" for the owner to make and schedule appointments and for samples to be displayed for customers who want to explore the many kitchen, bathroom and flooring options for their renovation. It is not intended to be a busy retail storefront, but will add more visibility to the Holland Valley brand while providing a complete design and planning solution for customers in one location.
What's in your tool kit? What are the specific skills and experiences you bring to your business? Are they embedded in your strategy? If you are not using every tool or experience you have collected be thinking how you can. This will further define and shape your business success.
To learn more about Holland Valley visit them online: Holland Valley Website, Holland Valley on Facebook.